About Amager and other interesting areas in Copenhagen.
A little homemade guide to make your stay in Copenhagen joyfull.
Transport and parking
There is free parking in the streets around the flat. Other streets are payment streets so please take note of which, as you will be fined 510 DDK, if you park in a payment street.
The Metro is just 5 min. away from the flat, and will take you to the city center or the airport in less than 10 min. Your station is called Lergravsparken st.
You can also take the bus (2A) from the metro-station; it will take you to the main train station and the city hall. The metro runs 24 hours a day, and you buy your tickets either on the station or via your phone. Go to http://www.dinoffentligetransport.dk/?lang=en to learn more.
<![if !vml]>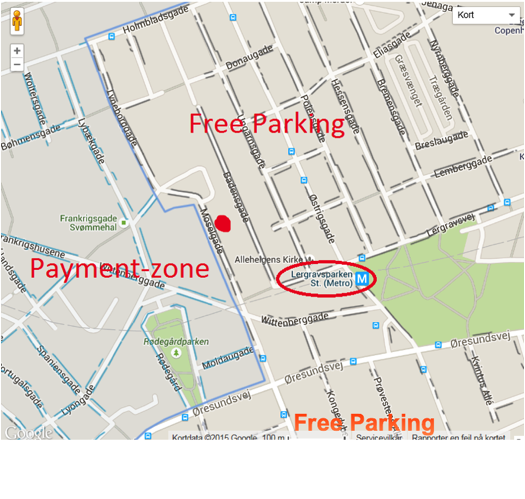 <![endif]>
A bit about the area
Amager is an island just in the outskirts of downtown Copenhagen. It is mostly a residential area with lots of students and families. Just a few years back Amager wasn't seen as a trendy place to live, but recently the area has gone through an uplift and many streets and shops have been renovated and Amager is now much more attractive than before. From Lergravsparken you have 5 min by foot to the beach, 15 min by bike to the forest, 7 min by metro (15 min by bike) to the city center – and still you find quiet "sub-urb living".
You find several grocery stores really close by – you got Netto, Rema and Fakta . They are the cheap kind and carry all you need for a meal and a house-hold.
About 10 min away you will find Amager Centret, the local mall – here you have a few cafes, a bit of shopping and also super markets. If you want a bigger mall, you can visit "Fields" – the largest mall in Denmark – just take the Metro to Christianshavn and change train towards Vestamager and get off at Įrestaden.
On Holmbladsgade you can find a few nice cafes – I recommend "Riccos" for coffee or ice-cream.
My personal favorite café is about 10 min walk towards the sea. It is called Wullf and Konstali and they serve the best brunch. It is perfect to go there before or after a nice walk on the beach.
If you want to bring home nice bread and pastry in the morning, go to "Nordisk BrŅd", also on Holmbladsgade – it is fantastic.
Just a short walk from the flat is Amager Strandpark. It is the beach, where Copenhageners go for a swim in the summer, for a run or just to hang out. It is very nice and worth a visit, perhaps for an evening stroll.
<![if !vml]>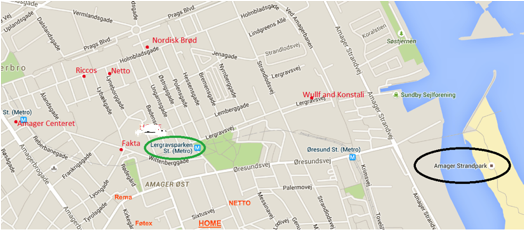 <![endif]>
My recommendations on Copenhagen
I have gathered some of the "little secrets" of Copenhagen, if you want the real Copenhagen feel and maybe get a bit away from the tourist attractions.
In Christianshavn you will find narrow cobbled streets, Michelin-starred restaurants and cozy cafes along the canal. Just across the bridge Knippels Bro is Christianshavn, officially part of Copenhagen city center. Christianshavn is a much-desired area for Copenhageners to live. And it is easy to see why. It is central, full of bars and restaurants and has a unique maritime atmosphere. Enjoy a cold beer by the canal, dine at Rene Redzepi's world-famous restaurant Noma, or get an extraordinaire experience at The Royal Danish Opera. Climb the tower at Our Saviour's church. Ever since the serpentine spire was inaugurated in 1752, is has been a popular pastime to climb the 400 steps to the top. Here on the top, Our Saviour himself stands on top of a golden globe and keeps watch over the royal city of Copenhagen. Each year more than 60.000 people climb the many stairs to the top, 90 meters above street level. In 2007 the view from the top was voted the best in the city by the Copenhageners. The last 150 steps are on the outside of the spire - this is not an ascent for the vertiginously challenged.
And do not forget to visit freetown Christiania, also situated in Christianshavn. Just by Christiania is PapirŅen (the paper island) where you find Copenhagen street food. I highly recommend going there for a meal and a drink. Relax by the waterfront, watch the sunset over the city and just enjoy. If it rains there are lots of seating, heating and cozyness inside.
<![if !vml]> <![endif]>
I also love the atmosphere of Vesterbro – it is a lot like Chistianshavn, but more "trashy" – you know the trendy-trashy Berlin kind of feel. Here you can try both the regular Danish hotdog from a "pŅlsevogn" on the street – or go to Foderbrĺttet in Vesterbrogade and get the gourmet version. In Vesterbro you will find a mecca of nice restaurants. I can recommend that you find a place in the meatpacking district.
NŅrrebro has a bit of the same atmosphere as Vesterbro. A bit more middle eastern perhaps with nice kebab, ethic shops and greengrocers.
In the city center you can spend an entire day walking around just looking at all the old buildings, castles and gardens. I would take the metro to NŅrreport, grab a coffee at Torvehallerne and then head to the old Botanic Garden (no entry-fee). Climb the stairs in the vintage green-house and watch the old palms and plants. Then find my way to Rosenborg on the other side of the garden. Here you can visit at real castle and see the royal Crown Jewels. After that a short stroll in the Kings Garden and down Gothersgade to Kongens Nytorv, where you can see The Royal Theater. Now it is time to head for Nyhavn, where the sailors roamed in the old days. You can end you day here and get a very pricy beer at a bar or café there, or grab one at a kiosk in the street behind Nyhavn and sit on the docking. If you have it in you for more walking, go down Larsens plads to Amaliehaven and Amalienborg, where the royal family lives, continue along the waterfront to the headquarter of Maersk and then to Gefion Water fountain. Now it is time for some food, I will recommend Café Petersborg headed in Bredgade 76. This is one of the oldest restaurants in Copenhagen and they are famous for their food and prices. The food is typical danish and you should try Danish "smŅrrebrŅd" and an "snaps" to the herring Continue your walk around Kastellet and on your way back go through "Nyboder" – a part of the city owned by the military. This is where people in the navy or army can get lucky and get a nice place to live. You end you trip by going down Store Kongensgade to Kongens nytorv. (MAP of the route: http://map.krak.dk/m/1YRCJ)
<![if !vml]>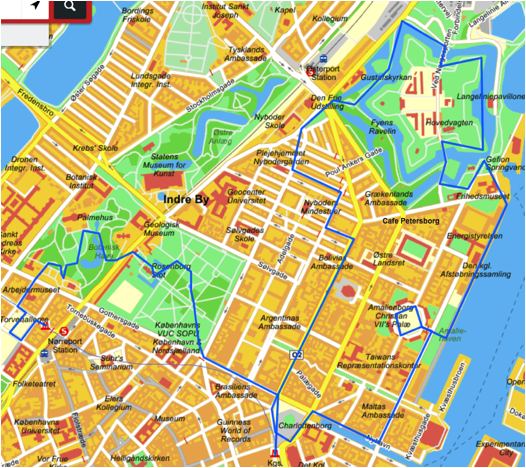 <![endif]>
Food, drinks and parties.
Copenhageners wanting to party go out from about 10.30 pm on Thursdays, Fridays and Saturdays.
Lots of young people go to Vesterbro to party. Around and in the meatpacking district (KŅdbyen) you find a cluster of bars and clubs. Bakken, Jolene and KB3 are great places if you want to dance. Just along the meatpacking districts you have Istedgade with many old bodegas, here you can grab a bottled beer and a game of dices with the locals. Sommersted, Risen and Guldregn are classics. On Vesterbrogade you also find many great bars, bodegas and restaurant. I like the "fancy" and a bit pricy Lidkoeb in nr 72B for nice cocktails.
For nice open-faced sandwiches I would go to Dyrehaven on Sndr. Bouldevard nr 72.
If you like nice bars and cocktails you could go to the street called Gammel Strand. Here you find nice places such as "The bird and the Church key", where they serve great gin, cider and beer. Also "Fugo" and "Rubys" are nice and very sophisticated. You can also find "Kattens" and the very popular "Zeffzide" here.
Downtown around Kongens Nytorv you find many big clubs. Sunday is posh and jet set-like. Zoo-bar is nice and relaxed, but fun and you can dance there. In Gothersgade there are lots of clubs and bars, especially in the "alley" called "Boltens GĆrd".
If you want to try the famous Danish "smŅrrebrŅd" I will recommend Café Petersborg in Bredgade 76
If you want a really nice meal at a very reasonably price, book a table at one of Madklubben's or Cofoco's restaurants – there are many styles all over town, and you are guaranteed a fantastic meal. http://www.madklubben.dk/en/
<![if !vml]> <![endif]>
<![if !vml]>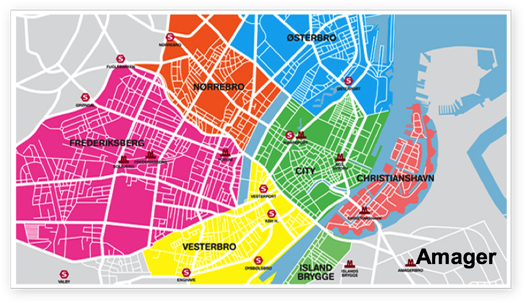 <![endif]>